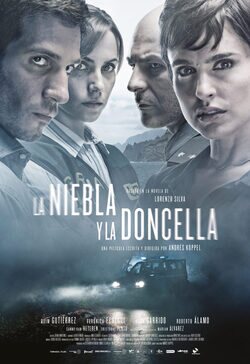 Write a review
Ranking
Ranking: 1,420 out of 14,014 movies (up 329)
Plot
The adaptation of Lorenzo Silva's same-named novel. The corpse of a young man appears in the isle of La Gomera, but the case is closed very quickly and under strange circumstances. The police hasn´t found a responsible neither has been investigated deeply. Now, three years later, the Seargeant Bevilacqua (Quim Gutiérrez) from the Guardia Civil and his assistant, Corporal Chamorro (Aura Garrido), travel to the island to continue with the process. The'll count with the help of Corporal Anglada (Verónica Echenegui), who will casually is the last person to see the young man alive. They suspect it has been a murder related with political issues, but the more they investigate a fog covers the secrets of the inhabitants of La Gomera.
Director
Cast La Niebla Y La Doncella
Videos
Photos
Reviews La Niebla Y La Doncella
Trivia La Niebla Y La Doncella
The movie es based on the book 'La niebla y la doncella', from author Lorenzo Silva. It's his third book starring the policemen Rubén Bevilacqua and Virginia Chamorro, after 'El lejano país de los estanques' (1998) and 'El alquimista impaciente' (2000).
It´s the first film directed by Andrés Koppel. Previously he worked as a screenwriter and in shortfilms.
The film is located in the Canary Islands. The author of the book, Lorenzo Silva, thinks it's important the director, Andrés M. Koppel, is a Canarian (although he was born in Germany he grew up in the islands) to avoid "the topic of the tourist".
Recommended