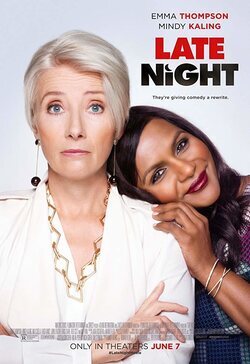 Write a review
Release Dates
United Kingdom: June 07 2019
United States: June 14 2019
Ranking
Ranking: 4,330 out of 16,400 movies (up 2400)
Plot
Katherine Newbury (Emma Thompson, 'Saving Mr Banks') has been the reigning monarch of late night television for years through her successful show 'Tonight'. Though Katherine has countless Emmys to her name and is seemingly above accusations that she is an "elitist" Brit who dislikes other women, when ratings for her beloved show plunders, she is forced to question why. To avoid the president of the network (Amy Ryan, 'Birdman') throwing a provocative writer into the current all-male writing room to shake things up, Katherine orders her co-worker, Brad (Denis O'Hare, 'Dallas Buyers Club') to hire a woman to do the job instead. Molly Patel (Mindy Kaling, 'The Office'), a former quality control officer who entertains her coworkers with a comedy routine over the loudspeaker, seems to tick all the boxes as not only a woman, but a woman of colour, and she is hired right away. To Molly's dismay, she struggles with the clear tokenism that accompanied her hiring as the men seem to either despise, underestimate or wish to seduce her. Nonetheless, Molly is set on helping Katherine modernise her show and achieving her dreams regardless of her race or gender. 'Late Night' is directed by Nisha Ganatra ('Chutney Popcorn', 'Brooklyn Nine-Nine') and was written by Kaling.
Awards
Premios
Año
Nominaciones
Premios ganados
Golden Globes

2020
1
-
Director
Cast Late Night
Videos
Photos
Trivia Late Night
The Katherine's role was written by Mindy Kaling thinking it would suit Emma Thompson
The original director for this film was meant to be Paul Feig, but he abandoned the project due to schedule problems
Mindy Kaling worked for Conan O'Brien as an intern.