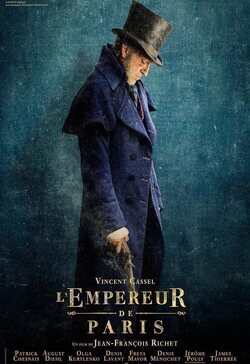 Write a review
Ranking
Ranking: 3,844 out of 16,356 movies (up 1945)
Plot
Under the reign of emperor Napoleon, François Vidocq is considered a legend in the parisians deep suburbs: he is the only man who has achieved to scape alive from the most dangerous colonial jails of the country. Left for dead after his last and spectacular escape, the old convict will try to hide himself a few years by living as a common merchant. But his past ends up chasing him and, after being false-accused of a murder, Vidocq will have to make a deal with the police chief himself. Vidocq will help the police to fight crime in Paris in change por his freedom. Despite obtaining excellent results, he will make enemies in the police and will anger the criminals, that have put a prize for his head.
Director
Cast The Emperor of Paris
Videos
Photos
Reviews The Emperor of Paris
Trivia The Emperor of Paris
Scenes have been filmed on the "La Base", the old air force base 217 located near Brétigny-sur-Orge and Plessis-Pâté in Essone. Production is also installed in the castles of Vaux-lee-Vicomte and Fontainebleau in Seine et Marne.
The story of François Vidocq is based on true events. He is a very relevant figure in the french culture, even though he is not well-known outside the country.
Richet and his team wanted to shoot in Prague, due to lower cost and because its streets look very familiar with Pari's streets. In the end, the producers decided to shoot in France, in Ile-de-France.