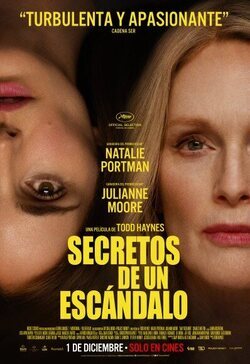 Title: May December
Original Title: May December
Year: 2023
Info
Release Dates
UK: November 17 2023
United States: November 17 2023
Plot
A actress starts investigating the past of a married couple that was in the public eye for a long time 20 years ago during their romance trying to make a movie about them. Gracie Atherton-Yu (Julianne Moore) and her young husband Joe (Charles Melton) scandalized the whole nation when they made their romance public due to the age gap that existed between them, which upset a lot of people.
Gracie wants to film a movie about their love story while her children are about to graduate from high school. An actress named Elizabeth Berry, played by Natalie Portman, will live some time with the family
in order to absorb the essence of Gracie
and understand her perfectly to play her better in the movie where she will be playing Gracie.
Her presence in Gracie's home and the trip to the past of the public opinion will make the family more exposed than ever. The couple was judged years ago because Joe was 23 years younger than Gracie, now they lives a peaceful life, which he couldn't have at the beginning.
This subject occupied all the journals's front pages and now it was just a memory with no importance. But the famous Hollywood actress will shake the couple's life with her arrival. The marriage live in a stagnant relationship, which doesn't hep to their age gap and the presence of an unknown girl who won't stop asking questions about their past.
Cast
Director:
Todd Haynes
Videos
2:24
Photos
Recommended movies and tv shows May December