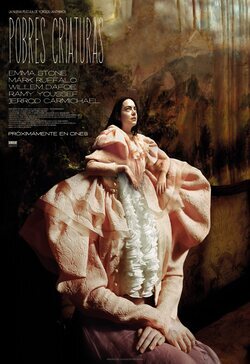 Title: Poor Things
Original Title: Poor Things
Year: 2023
Info
Release Dates
UK: January 12 2024
United States: December 08 2023
Plot
'Poor Things' tells the fantastic evolution and the incredible story of Bella Baxter, a young girl who is revived by the unorthodox and brilliant scientist Dr. Godwin Baxter. Bella is really interested in learn everything about the world, but always under the protection of Dr. Baxter. She really wants to see how is the normal live, something she doesn't have, so Bella decides to run away with Duncan Wedderburn, a wicked and sophisticated lawyer, with whom she will live a dizzying adventure across five continents. Without the prejudices of society of the moment, Bella will have a firm purpose in defending equality and liberation.
The film is based on the book by Alasdair Gray, and the script is written by Tony McNamara, this being the second collaboration between McNamara and Lanthimos ('The Favourite'). In the production of the film, we find Ed Guiney, Yorgos Lanthimos, Andrew Lowe and Emma Stone.
The film is directed by Yorgos Lanthimos, acclaimed director for films like 'Lobster' and 'The Favourite', in which one Olivia Coleman won the Oscar for best actress. In the star role of Bella, we can see Emma Stone. Willem Dafoe plays Dr. Baxter, who creates Bella. As young Bella's lover, we find Mark Ruffalo as attorney Duncan Wedderburn.
Cast
Director:
Yorgos Lanthimos
Videos
1:25
1:25
Photos
Recommended movies and tv shows Poor Things