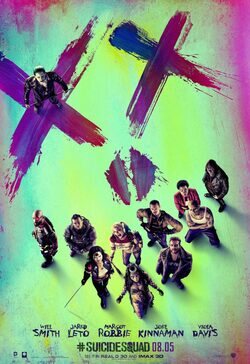 Write a review
Release Dates
United Kingdom: August 05 2016
United States: August 05 2016
Plot
'Suicide Squad' get all the DC villains together in one film. The Joker (Jared Leto), Deadshot (Will Smith), Harley Quinn (Margot Robbie), Enchantress (Cara Delevingne), and even some of the good such as Batman (Ben Affleck), all have a mission in this film directed by David Ayer based on a comic by John Ostrander. This unique team of villains, who were already locked by the heroes of the story and are referred to as the worst of the worst, seek to reduce his sentence by working for the government of the United States. These special skills for which they ended up in prison, will help them fight for their freedom. The dream of recovering this precious thing, is the perfect motivation to not hesitate to accept missions so dangerous that are called 'suicide misions'. U.S. intelligence officer Amanda Waller (Viola Davis) is the one that decides that just a secret group of disparate, despicable individuals would agree to try to defeat an enigmatic insuperable entity. Will the Suicide Squad resolve to die trying when they discover that they are marching towards their deaths?
Awards
Premios
Año
Nominaciones
Premios ganados
Academy Awards (Oscars)

2017
1
1
Razzie Awards

2017
2
-
Director
Cast Suicide Squad
Videos
Photos
Trivia Suicide Squad
Jared Leto took seriously his job of playing the Joker. So much that he did not leave his character even during breaks from filming. So he used to sent his fellow cast members "Joker-like" gifts, like the rat that he sent to Margot Robbie.
Scott Eastwood, a close friend of Jared Leto, said he came to be afraid of Jared's behavior on the set of '[ FILM]'.
Because of the dark argument of 'Suicide Squad', it has been suggested that an on-set therapist was hired to assist the cast and keep things in perspective.