Taylor Swift: The Eras Tour
2023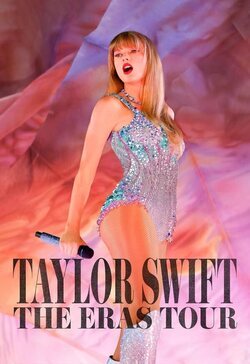 Title: Taylor Swift: The Eras Tour
Original Title: Taylor Swift: The Eras Tour
Year: 2023
Info
Release Dates
UK: October 13 2023
United States: October 13 2023
Plot
The cultural and musical pop phenomenon of the moment continues her concerts around the world through the big screen. The historic tour of Taylor Swift 'The Eras Tour'. This new cinematographic experience by director Sam Wrench takes you through a unique and unrepeatable concert by one of the pop queens of the moment.
You'll have the best views of the world tour that brings back all the musical eras of the artist and you will fell the magic of her music with songs from her iconic albums.
It was filmed in Los Ángeles during august of 2023
, on the SoFi Stadium in Inglewood, California. The terms of distribution and publicity of the film were dictated by Swift's team, not by AMC, the company which distributes the movie.
The 2023-2024 tour of concerts of the American songwriter, Taylor Swift, is distributed by AMC Theaters and will arrive to Europe, England and United States, Canada and Mexico on October 13th of 2023. 'Taylor Swift: The Eras Tour' is approved by the SAG-AFTRA union.
The Eras is the sixth tour of the singer, which started in Glendale, Arizona, the 17th of March 2023. 44 songs are divided in ten acts in concerts of more than three hours where Taylor sings songs from her 10 albums. The comercial success of this tour has made possible that Taylor and her music become a worldwide phenomenon.
Cast
Director:
Sam Wrench
Photos
Trivia
Making history
The average number of assistants in Taylor Swift concerts has been 72.459 people, including floor and seats. According to these numbers, provided by QuestionPro, The Eras Tour could have collected 2,2 billion dollars, being the tour who has collected more money in the industry history.
A musical trip
'Taylor Swift: The Eras Tour' is a gaze to the Taylor Swift's discography from the beginning until now. Her musical repertory includes songs from her different albums, such as 'Fearless', 'Speak Now', 'Red', '1989?, 'Reputation', 'Lover', 'Folklore', 'Evermore' and 'Midnights'.
An amazing show
The show offered by the songwriter includes different scenarios that represent each of her albums. The 33 year old actress uses the amazing scenography depending on the album era she's singing about.
Recommended movies and tv shows Taylor Swift: The Eras Tour