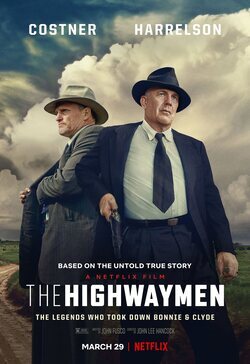 Release Dates
United Kingdom: March 29 2019
United States: March 29 2019
Ranking
Ranking: 1,382 out of 14,956 movies (up 281)
Plot
'The Highwaymen' is the story never told about Bonnie and Clyde's arrest. Neither FBI nor the most innovate technology have ben enough to capture the most wanted criminals in the entire country, Lee Simmons, head of Texas prisons, in his eagerness to capture these thieves, will appoint investigators Frank Hamer and his partner Maney Gault, two detectives who will have to take charge of Bonnie and Clyde's arrest, accused of murdering 10 policemen and 3 civilians. The film is directed by John Lee Hancock ('The Founder', 'Saving Mr. Banks' and Oscar nominee 'The Blind Side') and starring Kevin Coster (playing Frank Hamer), Woody Harrelson (Maney Gault), Emily Brost and Edward Bossert (playing criminals Bonnie and Clyde), Kim Dickens (Gladys Hamer), Kathy Bates (Ma Ferguson) and John Carroll Lynch (Lee Simmons).
Director
Cast The Highwaymen
Photos
Trivia The Highwaymen
At first, the film was going to be starring Robert Redford and Paul Newman, but after Newman's death in 2008, Redford left the project.
The first Woody Harrelson partner was Liam Neeson, but after he left the project, he ended up being replaced by Kevin Costner.
Woody Harrelson was the main character in 'Natural Born Killers', directed by Oliver Stone, a film inspired in Bonnie and Clyde's story whose main characters was Mickey and Mallory, playing by Harrelson and Juliette Lewis. In 'The Highwaymen', the actor plays one of the detectives who chases the criminals.