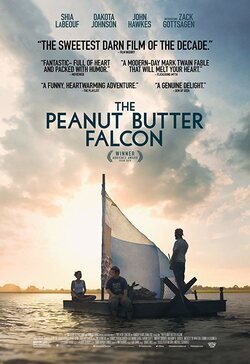 Write a review
Release Dates
United Kingdom: October 18 2019
United States: August 23 2019
Ranking
Ranking: 924 out of 16,088 movies (up 472)
Plot
'The Peanut Butter Falcon' follows Zak (Zack Gottsagen, 'Bulletproof'), a young man with Down Syndrome who decides to escape from his care facility and pursue his lifelong dream of becoming a professional wrestler. To prepare for this dramatic life change, he repeatedly watches an instructional video by wrestling professional Salt Water Redneck (Thomas Haden Church, 'Spider-Man 3'). Seeing his desire to live freely, Zak's roommate, Carl (Bruce Dern, 'The Hateful Eight'), helps him to flee, much to the concern of his carers. After a mix-up leads to Zak being pushed together with Tyler (Shia LaBeouf, 'Transformers'), a fisherman struggling between fleeing from the authorities and being caught up in a conflict of interests with his rival, Duncan, the two push past their initial disagreements to form a fraternal bond to which Eleanor (Dakota Johnson, 'Fifty Shades of Grey'), the care nurse sent to collect Zak, is also added. The three of them decide to delay Zak's return to the home and set off on a raft adventure down the rivers of North Carolina to find Salt Water Redneck and achieve Zak's dream of pro-wrestling in a real ring. 'The Peanut Butter Falcon' is written and directed by Tyler Nilson ('The Moped Diaries') and Michael Schwartz ('The Winter of the Beard').
Directors
Cast The Peanut Butter Falcon
Videos
Photos
Reviews The Peanut Butter Falcon
Trivia The Peanut Butter Falcon
On July 30, 2019, the Ruderman Family Foundation honored The Peanut Butter Falcon (2019) feature film with its Seal of Authentic Representation for accurate depictions of people with disabilities.
According to an interview Shia LaBeouf did with Collider, Ben Foster was originally cast as Tyler but dropped out last minute to spend time with his pregnant wife, actress Laura Prepon, and their child. He then called LaBeouf and offered him the role and to take his place in the movie.
The movie came about because the directors met Zack Gottsagen at a camp for disabled and non-disabled people and he expressed his desire to be a movie star. So the directors wrote the script around him.