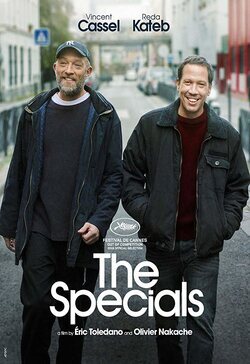 Write a review
Ranking
Ranking: 50 out of 16,035 movies (up 38)
Plot
'The Specials' is based on the true story of two friends: Bruno and Malik. Both of them face the complex and intricate realities experienced every day by many men and women, young and old, who fall within the autistic spectrum. Those men develop two different organisations and, at the same time, they instruct and educate different young people from conflicting neighborhoods to provide them with the training necessary to become carers for young autistic people and help those within their community. The organizations ran by Bruno and Malik specifically aim to provide aid to the people on the spectrum that are deemed "extremely complex" and so are disregarded by other institutions meant to help them. In following their efforts to provide support to the people that need it, the story of Bruno and Malik transforms into a film about two men that endeavour to create a fairer world for all. 'Specials' is the latest cinematic project from Éric Toledano and Oliver Nakache, the duo behind the film 'Intouchable'. This new French production also boasts a cast including with the two César award winners Vincent Cassel ('Black Swan') and Reda Kateb ('A Prophet'). The film was released at France theaters on 23rd October and enjoyed a successful debut at the Cannes Film Festival.
Directors
Cast The Specials
Videos
Photos
Trivia The Specials
The story is based on the life of two men, Stéphane Benhamou and Daoud Tatou, each one of those with an association devoted to this young autistic people that the system disregarded by the system.
The directors spent two years immersed in the organizations, which inspired them to build many scenes part of the movie.
The movie was showed out of competition at the 2019 Cannes Film Festival