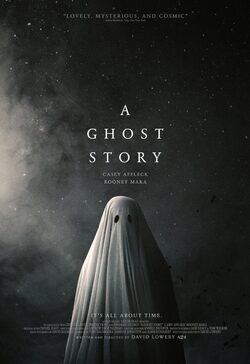 Write a review
Release Dates
United Kingdom: August 11 2017
United States: July 07 2017
Plot
While turning back home, a young musician suffers a terrible car accident and dies immediately. He has left behind not only his life, but also a widow. However, rising from underneath the while sheets of the morgue, his spirit turns into a ghost who haunts the house he had shared with his wife. This piece about loss and acceptance casting Casey Affleck and Rooney Mara has been highly acclaimed by the critics due tu its sensitivity and the refined perception of time and space. David Lowery brings to us a crude but accurate picture of a reality based on memory and spiritual connections. The psychological charge of this title invites us to meditate through a poetic narrative that explores the insides of the afterlife.
Director
Cast A Ghost Story
Videos
Photos
Trivia A Ghost Story
The production of this film was hidden from the public as long as they could. This project was not announced to the public even until a few months after it was finished.
This movie was shot in Irving, Texas, taking advantage of the set that was left after the shooting of 'Pete's dragon'
This movie has joined together again director David Lowery with his collaborator Casey Affleck, and also with Rooney Mara, since both of the stars participated in his movie 'Ain't Them Bodies Saints'