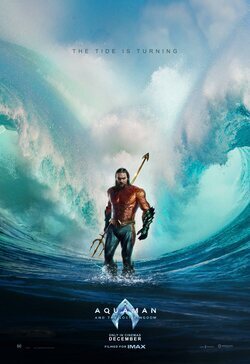 Title: Aquaman and the Lost Kingdom
Original Title: Aquaman and the Lost Kingdom
Year: 2023
Info
Release Dates
UK: December 20 2023
United States: December 22 2023
Plot
Director James Wan and Aquaman himself, Jason Momoa, along with Patrick Wilson, Amber Heard, Yahya Abdul-Mateen II and Nicole Kidman, return in the sequel to the highest-grossing DC film of all time.
After
failing to defeat Aquaman the first time, Black Manta, who still feels the need to avenge the death of his father, will stop at nothing to finish off Aquaman once and for all. for all. This time Black Manta is more fearsome than ever, wielding the power of the mythical Black Trident, which unleashes an ancient and malevolent force.
To defeat him, Aquaman will turn to his imprisoned brother Orm, the former King of Atlantis, to forge an unusual alliance. Together, they must put aside their differences to protect their kingdom and save Aquaman's family and the world from irreversible destruction.
Jason Momoa plays Arthur Curry / Aquaman, who now combines his obligations as King of Atlantis with those of a new father ; Patrick Wilson is Orm, Aquaman's brother and his nemesis, who must now take on a new role as his brother's reluctant ally; Amber Heard is Mera, queen of Atlantis and mother of the heir to the throne; Yahya Abdul-Mateen II is Black Manta, determined more than ever to avenge the death of his father by destroying Aquaman, his family and Atlantis; and Nicole Kidman plays Atlanna, a ruthless leader and a mother with the heart of a warrior.
Also reprising their roles Dolph Lundgren as King Nereus and Randall Park as Dr. Stephen Shin.
Cast
Director:
James Wan
Videos
1:30
2:39
Photos
Trivia
DC's position
The fifteenth and final film in the DC Extended Universe.
Título original
The film's working title was "Necrus". This is the name of an underwater kingdom in the Aquaman comics.
Octopus suit
Aquaman dons a blue stealth suit in this film, which carries the octopus-inspired ability to change color. The blue suit comes from the 1986 Aquaman comics.
Recommended movies and tv shows Aquaman and the Lost Kingdom