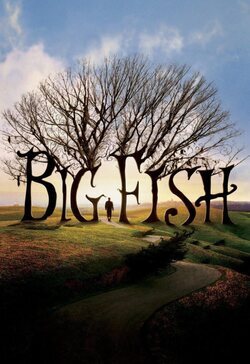 Write a review
Release Dates
United Kingdom: January 30 2004
United States: December 25 2003
Plot
Throughout his life Edward Bloom has always been a man of big appetites, enormous passions and tall tales. In his later years, he remains a huge mystery to his son, William. Now, to get to know the real man, Will begins piecing together a true picture of his father from flashbacks of his amazing adventures in this marvel of a movie.
Awards
Premios
Año
Nominaciones
Premios ganados
Academy Awards (Oscars)

2004
1
-
Director
Cast Big Fish
Videos
Photos
Trivia Big Fish
When Norther Winslow shows his half finished poem to Edward, (Grass so green / Skies so blue / Spectre is really great!) the handwriting is director Tim Burton's.
Even though Young Edward lands in Korea, the ventriloquist and his puppet speak in Tagalog (language of the Philippines) while the Siamese twins and Edward speak in Cantonese (a Chinese dialect). The soldiers who pull the ventriloquist off the stage speak Mandarin Chinese (language of mainland China and Taiwan) while the other soldiers speak in Korean.
Helena Bonham Carter (Jenny / The witch) was pregnant during filming.