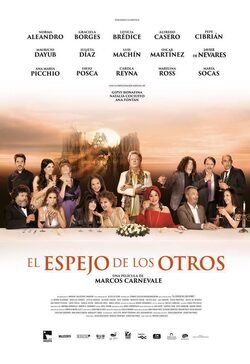 Write a review
Ranking
Ranking: 8,330 out of 16,357 movies (up 1590)
Plot
Buenos Aires has many magical places but there is one in particular that few know and that almost nobody talks about it. The 'Cenáculo' hides behind a wall insipid and vulgar door, where the remains of an old gothic cathedral are. Inside the restaurant there is only one table, which was a church before has been changing gradually to become a peculiar theater. Each night there is always a last dinner, nobody comes just to enjoy a great meal but to choose important decisions that they will change their lives. For the restaurant it spend the love, life, death, loneliness, greed, jealousy and life. Bar owners are brothers: Benito and Iris, joined by a big secret. Both see how every night a new adventures occurs.
Director
Cast El espejo de los otros
Photos
Reviews El espejo de los otros
Trivia El espejo de los otros
Julieta Diaz, Luis Machin, Ana Maria Picchio and Leticia Brédice participated together also in Argentina series 'Killer Women'.