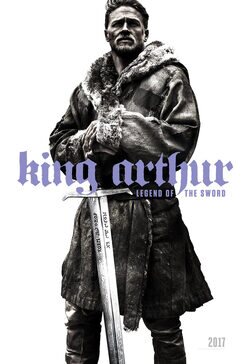 Write a review
Release Dates
United Kingdom: May 17 2017
United States: May 12 2017
Plot
Directed by Guy Ritchie ( 'Sherlock Holmes', 'RocknRolla'), the director of 'The Man from UNCLE' tries his hand at a film full of adventure about the legend of King Arthur and the Knights of the Round Table. However, this time the story is completely different from how everyone knows it. Ritchie shows a young urban Arthur who is the leader of a gang that runs through the streets of Londinium. Everything will change when he removes the Excalibur sword, forcing him to face make some tough decisions. He will be accompanied by a mysterious woman named Guinevere on this adventure where he will learn how to be a master of the sword, heal his wounds of the past, fight against the ghosts that haunt him and join his fellow knights and people to overthrow the tyrant king Vortigem, who stole the crown that rightfully belongs to Arthur, which was also the cause of his parents death before his rise as king. This new version of the legend of King Arthur is played by Charlie Hunnam. The film also stars the likes of Jude Law and Astrid Bergès-Frisbey.
Director
Cast King Arthur: Legend of the Sword
Videos
Photos
Reviews King Arthur: Legend of the Sword
Trivia King Arthur: Legend of the Sword
Three of the characters had meet before in 'Game Of Thrones': Aidan Gillen, Michael McElhatton y Eline Powell.
It's planned six film series.
It was offered a role to Colin Farrel but he declined