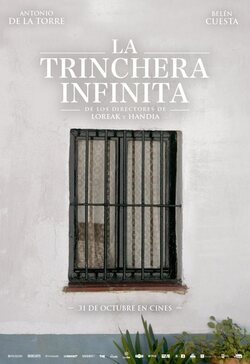 Write a review
Ranking
Ranking: 498 out of 16,035 movies (up 273)
Plot
The directors of the 2018 Goya Awards winner, 'Handia', and the film tasked with representing Spain at the 2016 Academy Awards ceremony, 'Loreak', dare to return to cinema with a historical film that received rave reviews and critical acclaim at the San Sebastian Film Festival. 'La trinchera infinita' is the new project by Aitor Arregi, Jon Garaño and Jose Mari Goenaga and stars Belén Cuesta ('La llamada', 'El aviso') and Antonio De La Torre ('Que Dios nos perdone'). 'La trinchera infinita' tells the story of Higino Blanco (De La Torre), a spy who, in the Spain of 1936, locks himself away in his house for fear of whatever punishment he may face after he discovers that some of his friends and associates have been shot. His wife, Rosa (Belén Cuesta), made him promise her that he will remain locked up if she is not at home, without knowing that his confinement will last until 1969. With her husband in hiding in the years of and following the Spanish Civil War, Rosa begins to feel painfully lonely without the support of her husband and the father of her son. Vicente Vergara ('La peste') and José Manuel Poga ('Palmeras en la nieve') complete the cast of the film, a story of lies and secrets, which was shot in different locations across Andalusia and the Basque Country.
Awards
Premios
Año
Nominaciones
Premios ganados
Goya Awards

2020
15
2
Feroz Awards

2020
8
-
Directors
Cast The Endless Trench
Videos
Photos
Reviews The Endless Trench
Trivia The Endless Trench
In 2008 the topic of moles was discussed during the post-war years in Spain in the film 'Los girasoles ciegos', by José Luis Cuerda.
The film is set in any village of Andalusia and, as Belén Cuesta and Antonio de la Torre are from Málaga, they were the managers of giving the needed reality to the script, so the directors have to pay so much attention if they didn't want to be lost.
The filming was divided in two parts for letting his main character, Antonio de la Torre, to get fat and in that way, make credible his aging.