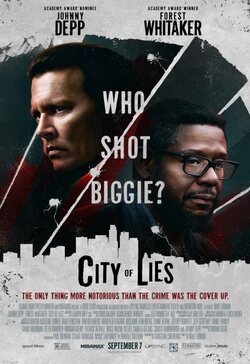 Ranking
Ranking: 1,998 out of 16,374 movies (up 3131)
Plot
The films tells the story of the investigation of the killings of rappers Tupac Shakur in 1996, and The Notorious B.I.G. in 1997. Based in the book LAbyrinth by Randall Sullivan. A highly decorated LAPD detective is called, in 1997, to investigate a controversial cop-on-cop shooting, eventually discovers that the officer killed was tied to Marion ?Suge? Knight?s notorious gangsta rap label, Death Row Records. During his investigation, Poole comes to realize that a growing cadre of officers were allied not only with Death Row, but with the murderous Bloods street gang. And incredibly, Poole begins to uncover evidence that at least some of these ?gangsta cops? may have been involved in the murders of rap superstars Notorious B.I.G. and Tupac Shakur.
Director
Cast City of Lies
Russell Poole
Jack Jackson
Detective Fred Miller
Videos
Photos
Trivia City of Lies
The script appeared on the 2015 Hollywood Blacklist of the most liked unmade scripts.
Denzel Washington plays a corrupt police officer, named Alfonzo Harris in '[TRAINING DAY]'. Alfonzo Harris and the film itself is based on the Rampart Scandal and officer Rafael Perez.
Sylvester Stallone was chosen to play Johnny Depp´s role the first time that the project was developed.