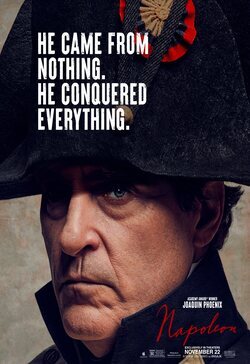 Title: Napoleon
Original Title: Napoleon
Year: 2023
Info
Release Dates
UK: November 22 2023
United States: November 22 2023
Plot
The film is an original and personal look at the origins of Napoleon Bonaparte and his rapid and ruthless rise to emperor, seen through the prism of his addictive and often volatile relationship with his wife and his one true love, Josephine de Beauharnais. He managed to conquer the world trying to conquer his love, but since he saw that it did not work, he decided to conquer everything with the aim of destroying her and ended up destroying himself in the process.
The film will follow Napoleon's rise to power as well as all the ups and downs of his relationship with his wife and only love, Empress Josephine. Napoleon, a fascinating and iconic man in French history came from nowhere to rule all, but meanwhile he was living a romantic war with his adulterous wife.
Napoleon' is an spectacle of action and epicity detailing the rapid rise and fall of the iconic French Emperor Napoleon Bonaparte, played by Oscar winner Joaquin Phoenix. What's more, he does so by showcasing his visionary political and military tactics through some of the most dynamic practical battle sequences ever filmed.
After a long shooting directed by the iconic director Ridley Scott about a real story told big time, the movie shows the incessant run which Bonaparte lived until he obtained the power.
Listings
'Napoleon' is showing in 21 today, including:
Cast
Director:
Ridley Scott
Videos
2:38
Photos
Trivia
Napoleon's coronation
The trailer represents Napoleon's coronation as a recreation of the painting Le Sacré de Napoleon (Coronation of Napoleon), by the famous painter Jacques-Louis David, who's name is shown in the credits as played by actor Sam Crane.
Ridley Scott and Joaquin Phoenix
'Napoleón' reunites director Ridley Scott with actor Joaquin Phoenix after the 2000's movie 'Gladiator'. In both movies, Phoenix plays an iconic historical figure (Emperor Commodus in 2000 and Napoleon in this film).
The script was adapted for Joaquin Phoenix
In December 2022, the media informed that Joaquin Phoenix performance was so powerful that the director Ridley Scott had to rewrite the script in order to adapt it to the actor.
Recommended movies and tv shows Napoleon