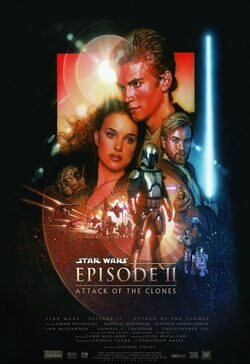 Write a review
Release Dates
United Kingdom: May 16 2002
United States: May 16 2002
Plot
Ten years after Queen Amidala (Natalie Portman) and Anakin Skywalker (Hayden Christensen) first encounter in 'Star Wars: Episode I - The Phantom Menace', fate reunite them because of a new threat. Now, the child that dreamed of becoming a Jedi Knight, is the apprentice of Obi-Wan Kenobi (Ewan McGregor), the new master whose more difficult task is to control the rebellious soul of his beloved Padawan. Things also have changed for Padme, the former regent, who has decided to change the throne by politics and dedicate herself completely to her new job as Senator. Her proposals end putting her in danger when a separatist faction decides to threat her life. So the Jedi Council decides to help her by sending Obi-Wan and Anakin to protect her. But the bodyguard job and the one that involves trying to find out who is behind the assassination attempts, separate the two Jedi knights leaving Amidala in the caring hands of Anakin. Between them will arise a forbidden love, that will forever change the fate of the inhabitants of that galaxy far far away. George Lucas wrote and directed this film which also features actors like Christopher Lee, Samuel L. Jackson or Ian McDiarmid.
Awards
Premios
Año
Nominaciones
Premios ganados
Academy Awards (Oscars)

2003
1
-
Director
Cast Star Wars: Episode II - Attack of the Clones
Videos
Photos
Reviews Star Wars: Episode II - Attack of the Clones
Trivia Star Wars: Episode II - Attack of the Clones
Hayden Christensen says he had a blast shooting the bar scene because it was filmed in a real scenario and not with blue screens.
As Ewan McGregor made ??in 'Star Wars : Episode I - The Phantom Menace', Hayden Christensen also enjoyed making the sound of the lightsabers, until Gorge Lucas told him there was probably someone in postproduction able to do it better.
Hayden Christensen was the only actor in the saga who couldn't choose the design of his lightsaber. It had been a tradition, but Christensen had to settle for using a sword with a very similar design to the one that Obi-Wan gave to Luke in 'Star Wars : Episode IV - A New Hope'.