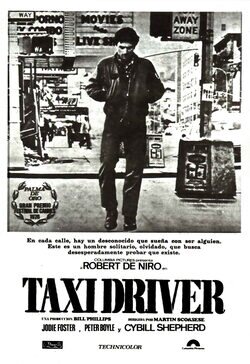 Write a review
Release Dates
United Kingdom: February 10 2017
United States: February 08 1976
Plot
Travis Bickle (Robert De Niro) is a former soldier who fought in the Vietnam War, and since he returned from there, he suffer from insomnia. Then he decides to start working as a night taxi driver in the city of New York. Travis is not a very sociable person, who is not related to anyone and spends the day alone and watching movies, fantasizing about a girl who is a volunteer for a political campaign, Travis decides to take action and begin voluntary in the same campaign policy approach her. He is depressed, he see night after night as decadent society, and fears that one day he can go crazy. This happens when he meets Iris, one underage prostitute and Matthew "Sport" Higgins, her pimp. Directed by Martin Scorsese, 'Taxi Driver' is one of his most iconic films. The cast is completed with Jodie Foster, Harvey Keitel and Cybill Shepherd between others.
Director
Cast Taxi Driver
Videos
Photos
Trivia Taxi Driver
Robert De Niro worked fifteen hour days for a month driving cabs as preparation for this role. He also studied mental illness.
Jodie Foster was 12 years old when the movie was filmed, so she could not do the more explicit scenes (her character was also 12 years old). Connie Foster, Jodie's older sister who was 19 when the film was produced, was cast as her body double for those scenes.
Paul Schrader wrote the script of 'Taxi Driver' in ten days via two drafts, one after the other. As he was writing, he kept a loaded gun on his desk for motivation and inspiration.