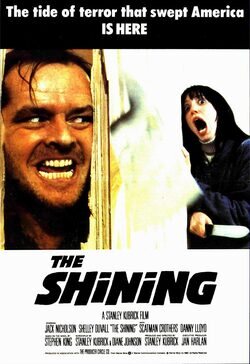 Write a review
Release Dates
United Kingdom: October 05 1980
United States: May 23 1980
Plot
Jack Torrance (Jack Nicholson) has a job interview for the post of watchman and maintenance of the Overlook Hotel in Colorado during the winter months. From November to May, the hotel is isolated due to heavy snow. Although the hotel owner warns Jack of the danger of isolation for so long since the last watchman went crazy and killed his family before kills himself. However Jack is isolation precisely what he wants to concentrate on finishing a book that he is writing. Meanwhile, Jack's son, Danny, who has extrasensory powers that allow him to live past events that he haven't lived and see the future, have a vision about the hotel where newly hired his father, a vision full of blood. Danny, with his mother, arrive at the hotel the day is closed to the public and begin to live there during those three months of isolation. At first everything is peace and quiet, but Jack begins to hear voices in his head ...
Awards
Premios
Año
Nominaciones
Premios ganados
Razzie Awards

1981
2
-
Director
Cast The Shining
Videos
Photos
Trivia The Shining
Both Stanley Kubrick and Jack Nicholson were offered to participate in 'The Exorcist'. Both refused it, but finally made a horror film together with 'The Shining'.
Firstly, the film's script was going to be written by Stephen King himself but, after chatting with some people about Kubrick, he decided to pass him the token.
Stephen King tried to convince the producer and the director to change the actor. He said that he did not seem to be going crazy, since from the beginning he has to look like it.