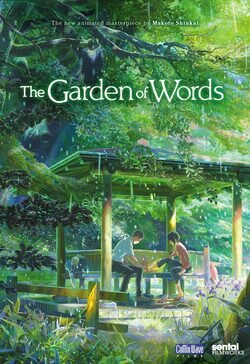 Write a review
Ranking
Ranking: 5,448 out of 16,400 movies (up 2678)
Plot
Takao Akizuki is a fifteen year old high school student who loves rainy days. He rather be just a child, to be at that time when he just dreamt about designing gorgeous shoes. Now the things has changed. Everything is different around him, well, not everything. Any time he can... he walks to school under the rain instead of taking the train, with his transparent big umbrella. One of those days, Takao sees a women under an elegant structure at a beautiful Japanese garden. Her name is Yukari Yukino and she is older than him. Since then, they will spend their time together. He will draw his designs, and she will eat chocolates, talking... but only when it rains. ¿What will happened when it stops raining?
Director
Photos
Reviews The Garden of Words
Trivia The Garden of Words
A coloring method was created during production. Each character was coloring in a way that was integrated with the background.
The director, Makoto Shinkai told that the rain in this film represents the power of love.
This has been the firs time that Tenmon hasn't been in charge of the soundtrack in a Makoto Shinkai film.