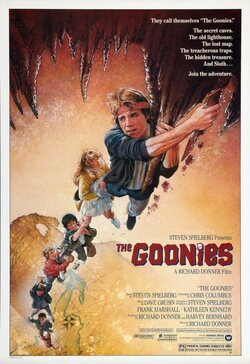 Write a review
Release Dates
United Kingdom: November 29 1985
United States: June 07 1985
Plot
'The Goonies' tells the story of a gang of kids who spend their last morning together, trying to say goodbye before a demolition company destroys the entire neighborhood. In an attic they find a map of a seventeenth-century pirate and set off to find a treasure valuable enough to save their houses. The Goonies begin to follow the map and enter a fabulous underground world full of caves, skeletons, traps that will make them live and aventure like no other. The film is directed by Richard Donner (director of 'Superman' or 'Lethal Weapon'), written by Chris Columbus (director of 'Harry Potter and the Sorcerer's Stone' and producer of 'The Help') and stars Sean Astin, Josh Brolin, Jeff Cohen, Corey Feldman and Kerri Green.
Director
Cast The Goonies
Videos
Photos
Trivia The Goonies
It's Josh Brolin's debut.
According to Sean Astin, they allowed him to take the treasure map to his house. Several years later, his mother found him, thought it was a piece of plain paper and threw it in the trash.
When the Fratelli brothers are arguing, Anne Ramsay really slaps Robert Davi.