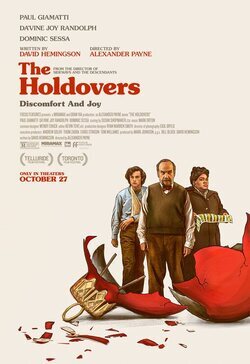 Title: The Holdovers
Original Title: The Holdovers
Year: 2023
Info
Release Dates
UK: January 19 2024
United States: October 27 2023
Plot
From acclaimed director Alexander Payne, 'The Leftovers' finds a cantankerous professor, played by Paul Giamatti, at a prestigious American school who is forced to remain on campus during the Christmas holidays. to look after a handful of students who have nowhere to go.
Against all odds, living together will lead him to forge an unusual bond with one of the students, played by
Dominic Sessa in his big screen debut
, and with the school's head chef, whom He is brought to life by actress
Da'Vine Joy Randolph
.
It reunites Alexander Payne and Paul Giamatti after 'Sideways' in a story of three lonely and traumatized souls in a boarding school during the Christmas holidays of 1970.
An adjunct professor of History whom neither the students nor his own colleagues can stand, and who is forced to stay at Barton Academy in charge of those students who cannot go home for vacation. This is the punishment meted out for suspending a high-profile student whose father had recently funded the school gym. Thanks to a Christmas miracle, the motley group of boys in Hunham's care is soon reduced to just one: Angus Tully.
Angus is a first-year student, very intelligent but with many traumas, who tries to deal as best he can with a complicated family dynamic. Also staying at the school is the school's head chef, whose son, Curtis, recently graduated from Barton, died in Vietnam. Still immersed in a deep mourning process, Mary decides to stay in Barton because it was the last place she was with her son.
Abandoned to their fate in the otherwise absolutely empty institution, this unexpected trio will face adventures and calamities to finally enjoy something resembling a family.
Cast
Director:
Alexander Payne
Videos
2:44
Photos
Trivia
Reality coincidence
Barton Academy in Western Massachusetts founded in 1797. Deerfield Academy, where Dominic Sessa graduated in 2022, is a true private school in Western Massachusetts also founded in 1797.
Debut
Dominic Sessa's on-screen debut. Sessa had only acted on stage in plays at Deerfield, Massachusetts, before acting in this movie.
Expensive sale
Focus Features bought worldwide rights for the film for $30 million after screening for buyers at the Toronto International Film Festival in 2022. It is the biggest sale to ever happen at the festival, despite it not being on the roster that year.
Recommended movies and tv shows The Holdovers