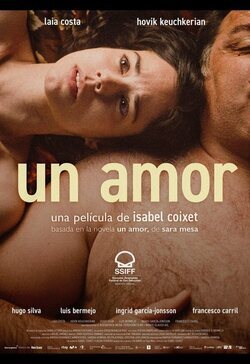 Title: Un Amor
Original Title: Un amor
Year: 2023
Info
Country:

Spain

Language: Spanish
Length: 129 Minutes (2 hours 9 min)
Budget: €1,000,000
Distributor: BTeam Pictures
Release Dates
United States: June 01 2016
Plot
'Un amor' tells the story of a 30 year old woman named Nat who has moved to a small rural village called La Escapada. What was supposed to be a tranquile life turns into the opposite when the protagonist starts having problems with the house, which is in ruins, and the conflicts between her and the hostile landlord who has rented her the place.
A young woman
who wanted to rebuilt her life
finds herself living in a decaying construction which she has to call her new home.Between the bad relationship with her landlord and the weird people from her new town, Nat ends up accepting a sexual proposition from her neighbor.
Andreas tells Nat that he will fix all the imperfections of her house if she practice sexual relations with him. When the young lady accepts the offer, she doesn't know what she's getting into. That decision will be the start of a big passion that'll consume her entirely.
Her change of life wont' be as she expected, Nat will be part of an obsessive and devouring relationship. The story talks about the transforming power of sexual desire, existential doubts and the exploration of genre roles.
The movie is directed and written by Isabel Coixet and starred by Laia Costa, Hovik Keuchkerian and Hugo Silva. It also counts with Ingrid García Jonsson, Luis Bermejo, Fracesco Carril and Tamara Berbés, among others.
Cast
Director:
Isabel Coixet
Photos
Recommended movies and tv shows Un Amor