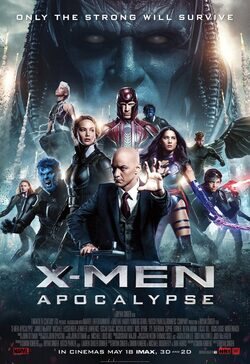 Write a review
Release Dates
United Kingdom: May 18 2016
United States: May 27 2016
Plot
This is the third installment of the new 'X-Men' trilogy. The new addition to the saga will close the trilogy starring Michael Fassbender, Jennifer Lawrence and James McAvoy. In 'X-Men: Apocalypse', the young and renewed X-Men of Professor Charles Xavier will face the greatest threat in the history of mankind. Apocalypse (Oscar Isaac) is the first and most powerful mutant, considered a god since the beginning of civilization. His power and cruelty knows no bounds. This amazing mutant awakens after thousands of years and, disillusioned with the world that he finds himself in, he will attempt to destroy it in order to reign in a new world of his creation. To achieve his goal, he will bring together a group of mutants which will include Magneto (Michael Fassbender), Charles (James McAvoy), Mystique (Jennifer Lawrence) and a new set of pupils will have to stop Apocalypse to save all mankind. Completing the cast of this film, which is directed by Bryan Singer, is Olivia Munn, Rose Byrne and Sophie Turner amongst others.
Director
Cast X-Men: Apocalypse
Videos
Photos
Reviews X-Men: Apocalypse
Trivia X-Men: Apocalypse
Simon Kinberg, screenwriter of the film, says that thanks to the time travel perform in 'X-Men: Days of Future Past', the story has been altered, and, in consequence, some mutants have changed. This has allowed Kinberg to create new versions of well known characters as Jean Grey and Storm.
Bryan Singer chose Apocalypse as the antagonist to examine the origins of mutants on Earth.
With this film the actor Hugh Jackman has starred as Wolverine in a total of eight movies, raising his own record for the most times a comic book character has been played by the same actor in theatrical films. It is also the only actor to appear in all 'X-Men' movies.