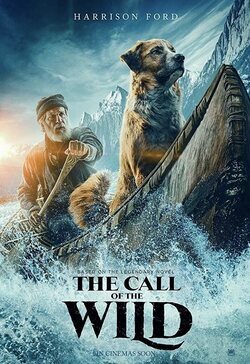 Write a review
Release Dates
United Kingdom: February 19 2020
United States: February 21 2020
Ranking
Ranking: 84 out of 16,407 movies (up 151)
Plot
The story follows Buck, a sled dog and St. Bernard/Scottish Collie mix as his journey combines unbelievable adventures and happenings that will change his life and the lives of those around him. Buck's story begins in Santa Clara, California, where he lives as a beloved domestic dog free from worries. However, when a gold deposit is discovered in Yukon, Canada, Buck is kidnapped and sold due to the sudden demand for sled dogs. In his new life, Buck is forced to work for companies that show him and his colleagues shockingly little compassion. With no one to save him, Buck is determined to save himself. Once he escapes into nature and snow, Buck's wild instincts begin to kick in and flourish and Buck sets off on series of daring adventures with other dogs of the Canadian forests and his travel companion, John Thornton. Taking up the role of John Thornton is Harrison Ford who, despite the distinction from his typical choice of role, is one of the most esteemed actors involved in the project. 'Call of the Wild' is directed by Chris Sanders with the guidance of Michael Green and Jack London in character development. 'Call of the Wild' also stars Dan Stevens (as Hal), Karen Gillan (as Mercedes) Omar Sy, Bradley Whitford and Colin Woodell.
Director
Cast The Call of the Wild
Videos
Photos
Reviews The Call of the Wild
Trivia The Call of the Wild
The role of John Thornton, here played by Harrison Ford, was previously portrayed by Rutger Hauer in the 1997 TV adaptation of the story. Both actors famously appeared opposite each other as enemies in Blade Runner.
In the novel, Buck is half St. Bernard (giving him size) and half Scotch collie (a medium-sized herding dog similar to a border collie or Australian shepherd, with perked or half-flopped ears). This film adaptation is the first to correctly portray Buck's mixed-breed heritage.
Jean Louisa Kelly played the teen in "Uncle Buck". In this film, the dog's name is Buck.