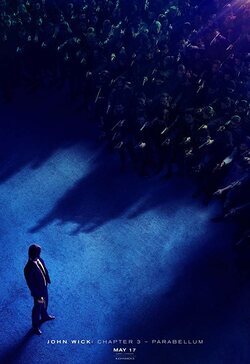 Write a review
Release Dates
United Kingdom: May 17 2019
United States: May 17 2019
Ranking
Ranking: 23 out of 15,375 movies (up 37)
Plot
In his third episode of the adrenaline-fueled action franchise, the skilled assassin John Wick (performed again by the great actor Keanu Reeves) are running away due to two main reasons: one, by a global contract of 14 million dollars; and two, by breaking a central rule: to kill on the forbidden grounds of the famous Continental Hotel. After murdering a member of the international assassination guild, Wick is excommunicated, but the most ruthless men in the world are waiting for his chance to catch him. The protagonist will use the service industry to stay alive while fighting with the intention of leaving the dangerous New York. Now, this 14 millions of dollars are the value of his wanted head.
Director
Cast John Wick 3: Chapter 3 - Parabellum
Videos
Photos
Reviews John Wick 3: Chapter 3 - Parabellum
Trivia John Wick 3: Chapter 3 - Parabellum
Keanu Reeves doesn´t want the franchise to be destroyed by the sequels, so John Wick's adventures will probably end in the third chapter.
Chad Stahelski, director of all John wick's chapters, does not want a bigger movie in the third episode, but continues to expand the complexities of the character's world.
The title "Parabellum" comes from a latin phrase ("Si vis pacem, para bellum") which means: "If you want peace, prepare for war".