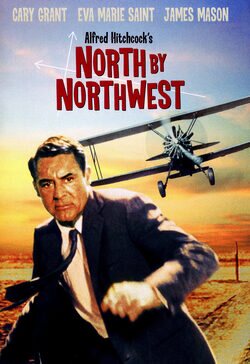 Write a review
Release Dates
United Kingdom: October 20 2017
United States: August 06 1959
Ranking
Ranking: 3,844 out of 16,356 movies (up 1945)
Plot
Roger O. Thornhill is an executive who is mistaken for a government agent named George Kaplan due to a misunderstanding. Three men take him to a mansion and interrogate him. They try to kill him, but unexpectedly, he escapes. However, when he goes to the police, no one believes him, but the terrorists will not stop chasing him, believing he is Kaplan. During his flight he meets a mysterious woman who helps him to escape. Meanwhile, Roger will begin to investigate by himself to discover who are these people that try to kill him, and who is the mysterious George Kaplan. The government knows the story of Roger, and they also have a plan. This is one of the most acclaimed films of director Alfred Hitchcock.
Director
Cast North by Northwest
Videos
Photos
Reviews North by Northwest
Trivia North by Northwest
While filming 'Vertigo', Alfred Hitchcock described some of the plot of this project to frequent Hitchcock leading man and 'Vertigo' star James Stewart, who naturally assumed that the director meant to cast him in the Roger Thornhill role, and was eager to play it. Actually, Hitchcock wanted Cary Grant to play the role. By the time Hitchcock realized the misunderstanding, Stewart was so anxious to play Thornhill that rejecting him would have caused a great deal of disappointment. So Hitchcock delayed production on North by Northwest until Stewart was already safely committed to filming Otto Preminger's 'Anatomy of a Murder' before "officially" offering him the role. Stewart had no choice; he had to turn down the offer, allowing Hitchcock to cast Grant, the actor he had wanted all along.
While on location at Mt. Rushmore, Eva Marie Saint discovered that Cary Grant would charge fans 15 cents for an autograph.
Thornhill appears on the left side of the screen for almost the entire movie.