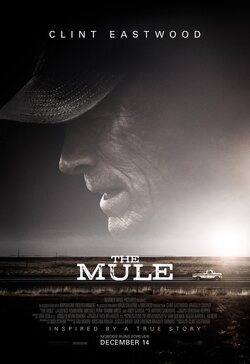 Write a review
Info
Year: 2018
Original Title: The Mule
Length: 116 minutes
Studios:
View trailer
Release Dates
United Kingdom: January 25 2019
United States: December 14 2018
Ranking
Ranking: 63 out of 14,727 movies (up 54)
Plot
A Second World War veteran aged 90, Earl Stone, has no money to pay his dues and decides to resort to a business as profitable as dangerous: drug's contraband. Earl becomes one of the biggest and searched by the DEA drug dealers in USA only by carrying the cargo to the mexican drug cartel. Working with them and camouflaging under his old appearance, Earl will have enough money to pay his dues and avoid his house's seizure, but he will have to pay in exchange a price that he wouldn't solve with all the possible deliverances. Directed by Clint Eastwood, author of masterpieces such as 'Unforgiven', Mystic River' and 'Million Dollar Baby', the film is starred by Bradley Cooper, Taissa Farmiga, Andy Garcia, Michael Peña, Laurence Fishburne and Dianne West
Director
Cast The Mule
Videos
Photos
Trivia The Mule
The movie was inspired by the real story of Leo Sharp, a World War II veteran in his 80s who became the world's oldest and most prolific drug mule for the Sinaloa Cartel.
More than six years later, Clint Eastwood is back in front of camera, as he started in film industry. It will be his first appearance since 'Trouble with the curve' and 'Gran Torino', the last film he directed and starred.
This was not the only time Clint Eastwood played a "mule." He also played one of a different kind in 'Two Mules For Sister Sara' with Shirley MacLaine.